Join Date: Apr 2006
Posts: 413
Accident pics 56K no no no
---
Well here are pics of the car after the accident. Havent got any from the scene of the accident, these are just from the yard where it got towed to.
Other thread describing the accident
https://www.cobaltss.com/forums/showthread.php?t=5908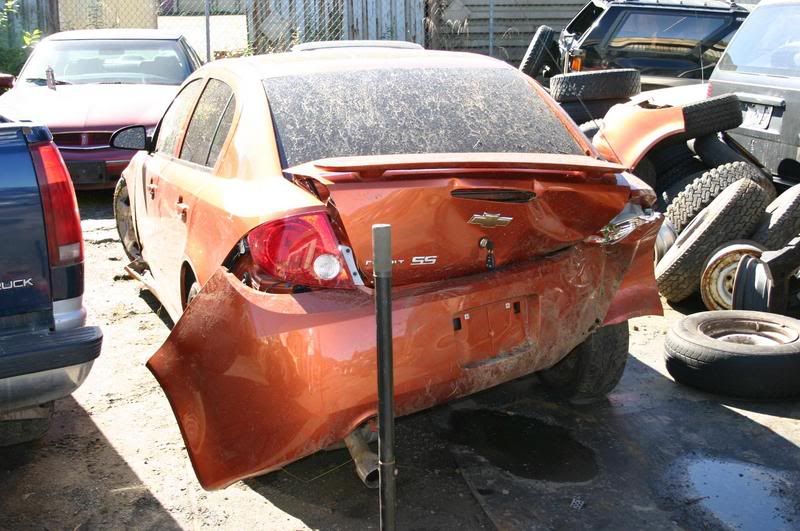 Join Date: Mar 2006
Posts: 718
holy shit ive been gone for like 2 weeks wut happened ?!?
Join Date: Mar 2006
Posts: 718
nvm just read ur post over in general my bad ...

that rlly sucks im rlly srry about that im glad yall r ok though
Contributing User
Join Date: Jun 2006
Location: denver co
Posts: 3,637
ouch man. you really did a number on that car. R.I.P.. sunburst orange cobalt ss sedan. here's to anew.
You gettin a new one?!?!
---
To view links or images in signatures your post count must be 10 or greater. You currently have 0 posts.
Join Date: Jan 2005
Posts: 9
Hey D;

I went out to look at it myself this afternoon. God it hurts to see it.

Glad you and your friends came out ok. Sorry I've been laid up with a cold, so if you need anything, just holler.
Join Date: Apr 2006
Posts: 413
hmm bizz i dunno what im going to do yet.
yeah bill when i went out to take those pics, i totally wanted to bawl my eyes out, but i kept it together until i got home by myself to let it all out.
Join Date: Apr 2006
Posts: 62
wow glad you made it out ok well on the good side you might be able to find a ss/sc
Join Date: Apr 2006
Posts: 413
Actually yes I talked to one of the salesmen today, he heard about the accident and was already looking into a SOM SS S/C so I'm going in first thing in the morning to have it priced out.
jeez that sucks man, after having my integra stolen last week i don't know what i'd do if anything happened to my precious Balt. i would look into a good SS/SC, you won't be dissatisfied. i love my car, and i wish the best for you.
---

To view links or images in signatures your post count must be 10 or greater. You currently have 0 posts.

Injen CAI + Corsa Touring + GMPP Stg 2 + Eibachs
Hawk Pads + too much suspension to mention
On the way: Flywheel + DC Sports header