Discussion Starter
•
#1
•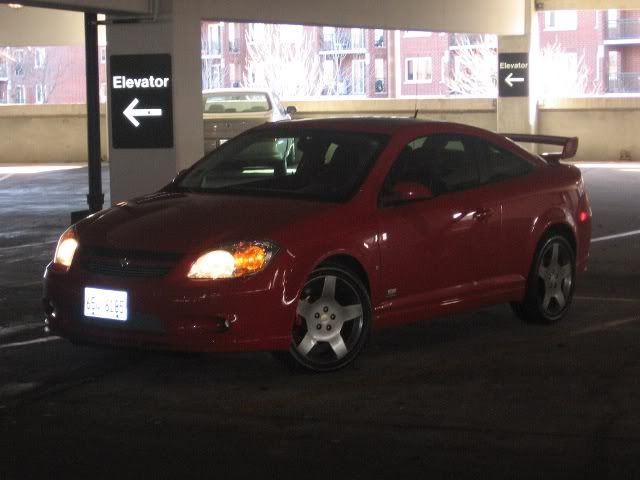 That's right, it's the day you've all been waiting for... the one-year anniversary of the day I bought my mack-mobile.
Well, that was yesterday. I was too busy making love to my car in the form of going fast to nowhere in particular to post anything. But now that I'm spent, here's what I think of the car thus far:
ODOMETER:
9811 MI.
PERFORMANCE
This car has done nothing but impress me from the moment I learned how to keep it from stalling. I beat the ever-living piss out of it day in and day out and it does nothing but deliver. It's taken to mods very well, and despite the tune-less pulley and CAI, I've yet to receive a CEL. And most importantly, a lot of people on the northside of Chicago know to look out for the Red Rocket, or as I lovingly call it, The Show. Here's my list of notable races, both W's and L's.
Wins
1. 2002 or '03 Mustang GT (I didn't win, but I didn't lose, so
)
2. Previous generation Golf GTI
3. EVO IX (Guy obviously didn't know what he was doing, but I'll take it.
)
4. Late model Prelude (Had to shut my buddy up)
5. Early model Golf GTI (2 out of 3)
Losses
1. Infiniti G35
2. Dodge SRT-4 (3rd gear = death)
MAINTENANCE
Nothing out of the ordinary here. Just tire rotations and oil changes.
WEAR AND TEAR
Being the top of the line model doesn't change the fact that it's still an econobox, and I knew that before I started looking. I knew this would be the case in whatever I ended up buying (seeing as how they're all econoboxes, too). So I'll mention the annoying rattle that sounds like it's coming from behind the driver's seat (and I still can't find the source of despite literally months of looking) as well as the chipping paint on the door panel, but I won't complain about it.
The car is also not a tank, which I found out less than two months after owning my car (something I don't think I've mentioned on here before). While going through and s-turn (all one-way) that's designed for you to go through it at about 20 MPH (in one lane), I decided to see how fast I could take it, seeing as about 2 cars pass through there every half hour. I found out it wasn't much more than those 20 MPH, and BAM! Curb action. Not only did I scrape the lip right in front of the wheel, but I also scraped the hell out of the wheel. As if that wasn't enough, I cracked the spindle and bent the hell out of my rack-and-pinion. The wheel, spindle, and rack-and-pinion were all fixed roughly $2200 later. This was all done by my mechanic buddy without the knowledge of my dealership or insurance company.
There is also a healthy amount of paint scraping on the rear bumper, none of which was actually my fault. In the right corner of the rear bumper is a series of scrapes from someone in a parking garage at my school while I was in class (surprise!). Right above my license plate is a small, but deep, scrape from when I let my brother drive and he slowly backed into my mom's truck, and one of the screws from the license plate bracket did a nice number on my bumper.
Other than the rattling and the paint, my car is in tip-top shape, and is more than what I could have expected. Despite the hell that I put it through, the car has done nothing but do as I ask and quickly rebound when it doesn't.
Here's to another year of ass-kickery.