Discussion Starter
·
#1
·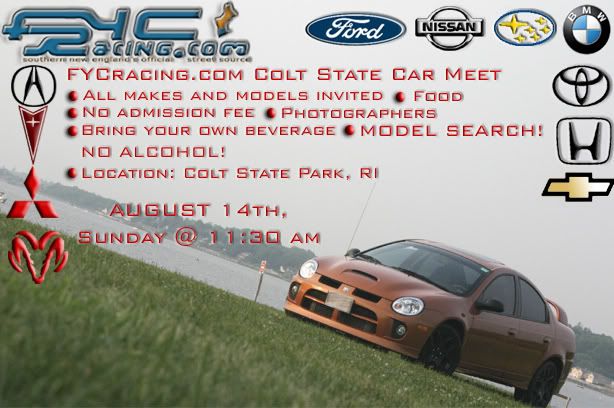 DIRECTIONS:
From Boston
From Providence
NO ALCOHOL!
Park info:
http://www.riparks.com/colt.htm
Please post if you're going and what you can bring and I will add you to the list:
V8killa

If you care to bring food or soda, please state what you're going to bring. this meet should be HUGE so if you can PLEASE ATTEND. I personally would love to see some cobalts make a showing.
We also have some photgraphers that are quiet good so bring your car and we'll take some shots you'll be proud of.
some Pictures from the last meet.
http://www.maxthrottle.com/viewtopic.php?t=780
http://forum.fycracing.com/viewtopic.php?t=1471&postdays=0&postorder=asc&start=0
This thread will be edited as there is no reason for endless amounts of posts in this thread. It is for information only.
Red = maybe