Discussion Starter
•
#1
•
I just completed my GMPP stage kit on my 08 SS turbo. Here are my before and after comparisons, both dyno and road tests.
Keep in mind all dynos read a little different so your results may vary. Road Tests were done on the same roads with another person in the car using a stop watch, so they aren't exactly perfectly scientific in their execution but they are fairly accurate. I did two runs of each test and averaged the two runs.
Cobalt GMPP Stage Kit road test results
6/27/10 0800ish and 7/8/10 1000ish --- Difference
Temp 65-70* / 65*
Gas 5/8 / ¾ --- + 1/8th
Odometer 16181 / 16768 --- + 587 miles
A/C off for all tests
5-60 mph 7.48 (start in 1st gear 1k rpm) / 6.52 --- -.96 sec
30-50 mph 3.74 (start in 2nd gear 2.8k rpm) / 3.24 --- -.50 sec
50-70 mph 4.70 (start in 3rd gear 3k rpm) / 3.98 --- -.72 sec
50-100 mph 18.20 (5th gear roll on) / 16.27 --- -1.93 sec
50-100 mph 10.60 (start in 3rd gear 3k rpm) / 9.60 --- -1.0 sec
Top speed in gears
(just under 200 rpm limit raised with kit)
Except for 3rd and 5th gear, Speeds are as indicated on the speedometer and approximate since I didn't want to run on the rev limit too long
1st 30 mph / 35 mph --- +5 ish
2nd 60 mph / 65 mph --- +5 ish
3rd 98 mph (actual speed on dyno) / 102 mph --- +4 mph
4th 135 mph / 140 mph --- +5 ish
5th 161 mph (actual dyno no road test) / 163 mph --- +2 mph
Dynamometer runs were done at Blacktrax performance in Milpitas, CA which is a tuner shop that does a bunch of cool import and custom work. If you're in the Bay Area I highly recommend them. You can google the name for a link. Dyno runs were done the same day. Before Dyno (stock) in the morning, kit installed mid-day, and Dyno after kit install in the afternoon. Install of GMPP kit was done at Boardwalk Chevrolet in Redwood City. I highly recommend them as well. Both businesses provided excellent service at very reasonable rates. They both were also extremely accommodating with my plan to dyno, install, and dyno on the same day so I could get accurate results.
Before and After Power and Torque. Don't just look at the peak increases. Look at the space between the curves. Off idle horsepower and torque are almost doubled. At some rpms it's 50 hp difference and torque is as much as a 75 lb/ft difference. Look closely at the b***om end. The curve is much less steep now which makes taking off from a stop waaaay easier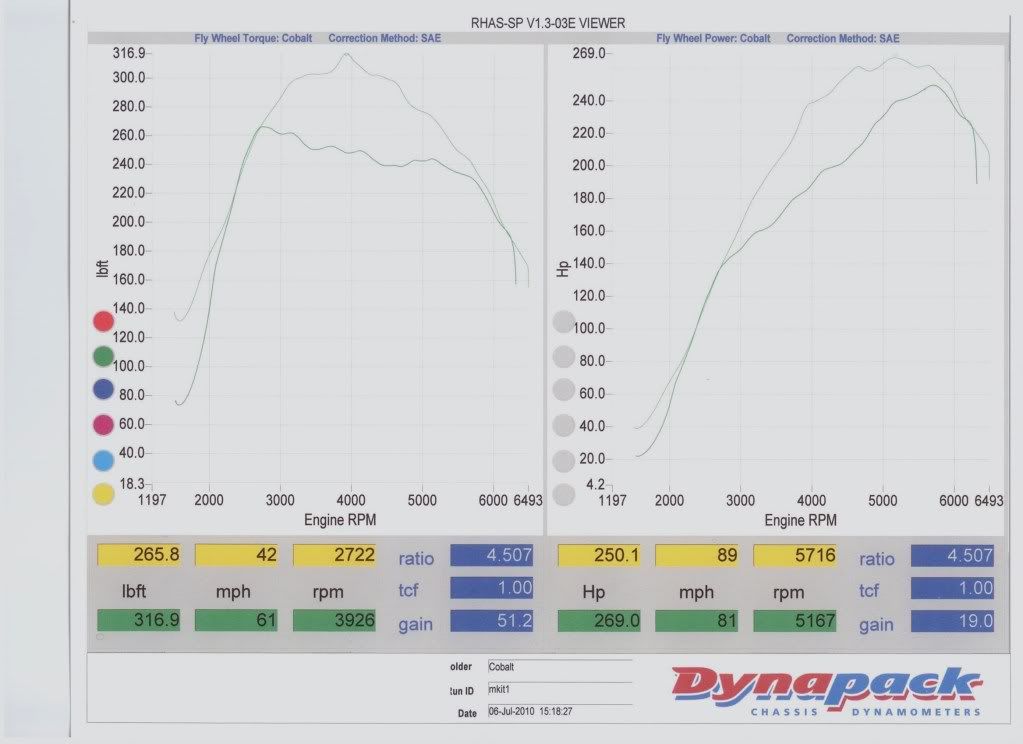 Before and After Boost
All Numbers Before top of page
All Numbers Before b***om of page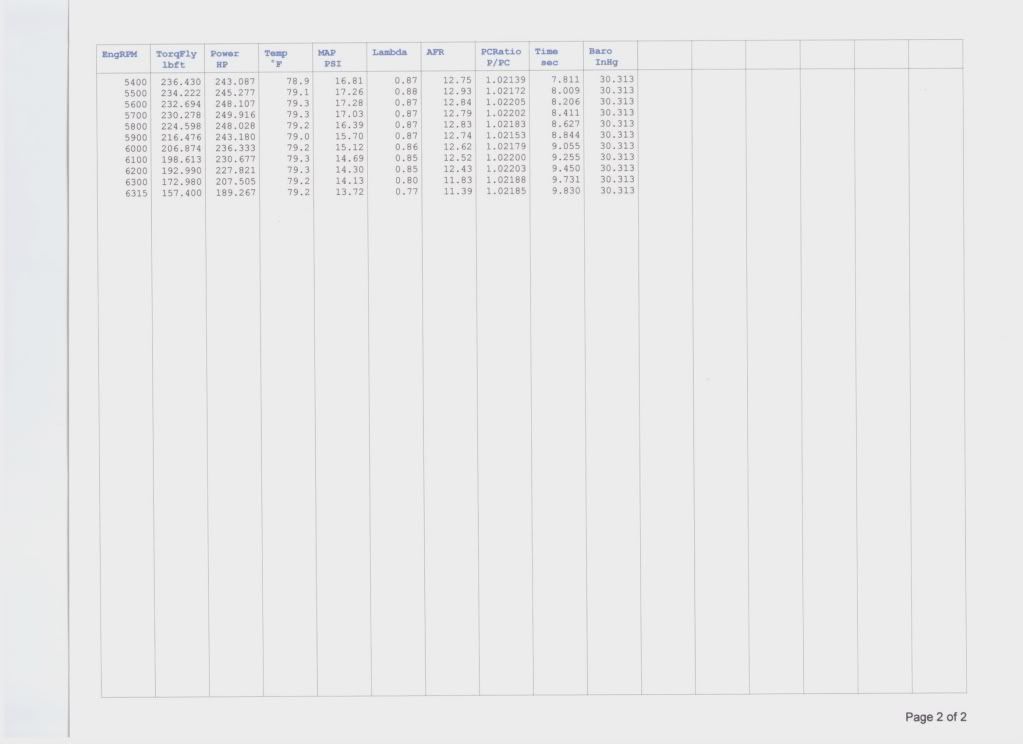 All Numbers After top of page
All Numbers After b***om of page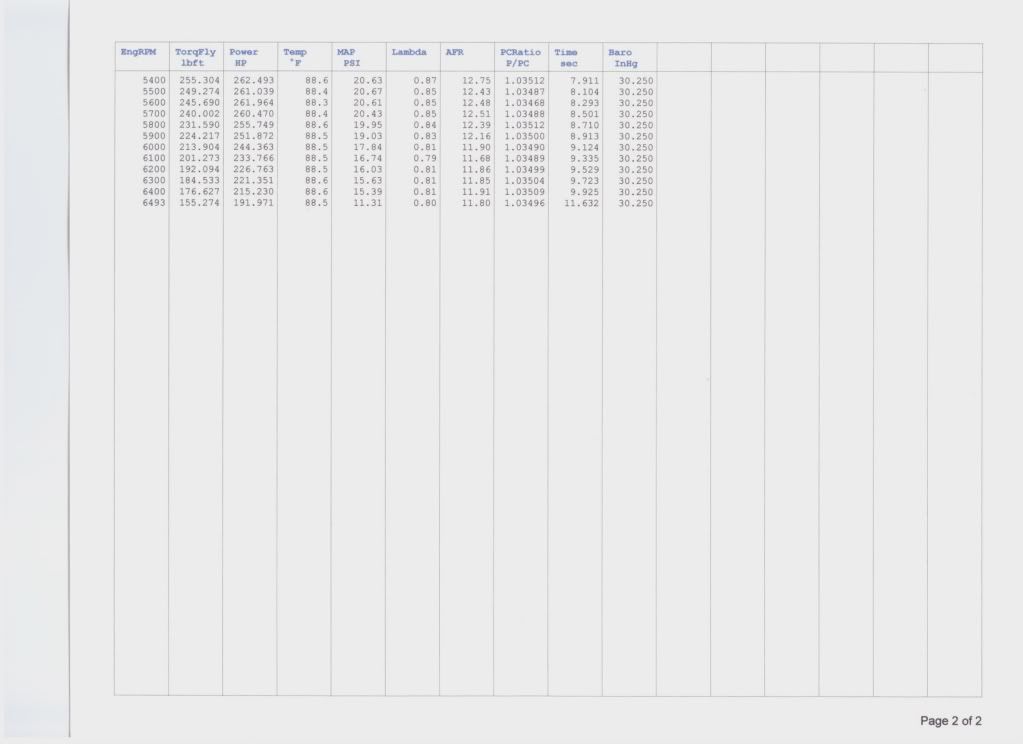 So far my impressions are:
1. The car is easier to drive when taking off from a stop because of the increase of power at low rpm combined with the smoother (less steep) power curve from 1500-2300.
2. The car is quicker overall.
3. The slightly raised (180 rpm) rev limit allows approximately 2-5 mph more in each gear.
4. The "Launch Control" feature now actually works. I've only tried this a couple times, but stock if you used launch control (car in competitive mode, at a stop, full thr***le, in 1st gear, car holds at 4700 rpm, drop the clutch and keep it full thr***le) the car would squeal the tires a little, bog down, then take off. Now with the kit installed the car actually has the power to get you going without bogging as it gets traction. It squeals the tires a little and then accelerates more as it gets traction. This is my best effort at real world results and what you can expect by installing the GMPP kit on your 08 or newer SS.
Dog