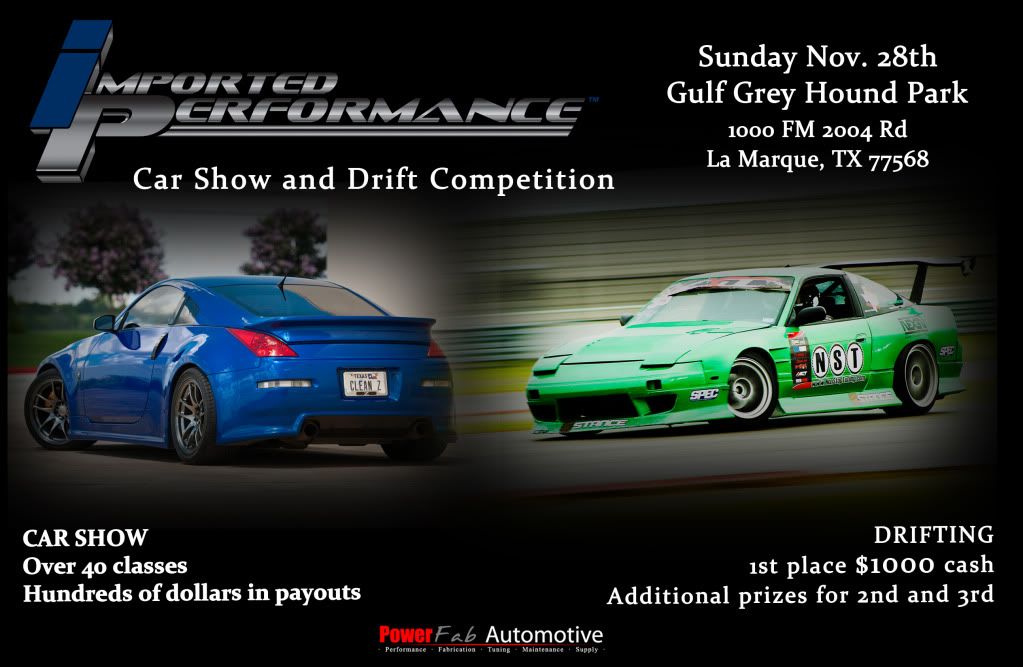 First of all we would like to thank all of our sponsors for helping us set up this event. We are expecting over 2000 people to be in attendance and every last one of them will leave with at least some FREE STUFF! NOS will be in attendance as well to quench your thirst and to keep you energized for all of the intense battles that will be taking place!
All of our sponsors will be showing up in full force bringing out their; mobile store fronts, show cars, race cars, products, clothing, and much more! There also will be a raffle held every 30 minutes throughout the day!
9am - Doors for Show Cars and Drift Cars open
9:30am – Drivers Meeting
10am – Drifitng Begins - RC Car Races Begin
11am – Raffle Begins
1pm – Scavenger Hunt Begins
2pm – Drift Competition Start
5pm – Drift Competition Ends - Car Show Awards
5:15pm – Drift Competition Awards
Car Show Classes
- $30 per entry, includes FREE T-Shirt. All class winners will get a FREE $25 gift card to Imported Performance.
-Best Acura
-Best Audi
-Best BMW
-Best Chevy
-Best Chevy Truck
-Best Dodge
-Best Dodge Truck
-Best Ford
-Best Ford Truck
-Best Honda
-Best Hyundai
-Best Infiniti
-Best Lexus
-Best Mazda
-Best Mitsubishi
-Best Nissan
-Best Nissan Truck
-Best Pontiac
-Best Scion
-Best Subaru
-Best Toyota
-Best Volkswagen
-Best Bike
-Best Daily Driver
-Best Engine Bay
-Best Exotic
-Best Hellaflush
-Best Overall Truck
-Best Purpose Built
-Best Sound System
-Best Team
-Best VIP Style
-Best American $100
-Best Asian $100
-Best European $100
-Best in Show $300
To inquire about Car Show pre-registration please e-mail
[email protected]
to get all of the information needed.
Spectators
- $10 each must have bracelet on to reenter the show.
Drifting
- $75 per car, includes your entry plus and additional pit member entry.
Awards:
1st Place $1000 Cash
2nd Place $$$ still being determined
3rd Place $$$ still being determined
To inquire about drifting registration please e-mail
[email protected]
to get all of the information needed.
Entertainment:
We will have live music, as well as some local performing groups; and if you happen to be a part of a local group interested in performing please contact me at
[email protected]
RC Car Races/Tournament
will be held throughout the day, prizes, pride and bragging rights are on the line! (Please bring your own racers)
Various Raffles will be held throughout the day in which we will give away products from some of your favorite companies, gift cards from sponsors, and who knows what else might get thrown in there!
Storied Productions:
Storied Productions will be in attendance with an army of HD cameras, go-pro's, and still cameras. This will be put to use to create a DVD of the event and will also offer photo shoots for attendees. The DVD which will be 60+ minutes in length, will feature behind the scenes footage of the creation of the event, impossible angles that will be recoded of the drift competition, featured sponsors, and of course the most complete coverage of the total event as possible!
Model Search:
Imported Performance will be conducting a model search to gather a team of ladies to accompany our Houston show team to events. Becoming an Imported Performance Model will get you all sorts of benefits which include: professional photo shoots to build your portfolio, industry connections to get your photos to the correct people, and much more.
Stereo sound off:
You have a killer sound system? We want to hear it, and not only that we want to hear who has the best! Compete in the sound off to win bragging rights, pride, and swag!
Some other shows we have been involved with: