Discussion Starter
•
#1
•
Want traction bars? Think 200+ bucks is too much? Well I did, so I set out on a quest to build my own. What I found is that most traction bars for the SS/redline are made up of components you can find at your everyday speed shop.
You don't have the buy from the places I list , use Google to find other retailers that carry the same items, you may even have a shop near home that carries some of this stuff.I went with 2 piece mild Steel rod ends,summit chromemoly rod ends are available , but mild steel should be more than strong enough for the application.
1. 2 -
10-11" Threaded tube with LH and RH thread , aluminum $7.99 each
or -
steel $10.99 each
2. 2-
5/8-18 thread 5/8 hole spherical rod ends right hand thread $8.95 each
or
chromemoly $13.95 each
3. 2-
5/8-18 thread 5/8 hole spherical rod ends left hand thread $6.95 each
or
chromemoly $13.95each
All fallowing items should be available at local hardware store and shouldn't cost more than $20-25 , or you can search and order all hardware online.
4. 2 - 4 1/2" x 5/8-11 grade 5 or better bolts (frame)
5. 2 - 3" x 5/8-11 grade 5 or better bolts (control arm)
6. 8 – 5/8 lock washers
7. 4 – -
5/8 aluminum tapered spacers
or ½" or 3/4" straight spacers
8. 4 - 5/8-11 nylock nuts(nylon lock nuts)
If you add everything up it comes out to 80 to 90 bucks for a basic set up or $140 tops for super cool HARDCORE bars , and that's factoring shipping.
Don't get me wrong , retailers offer a good product , and it nice if you don't want to do all the shopping around. Plus they offer there's in different powder coated finishes. But if your cheap like me … this is the way to go.
So here's all my ordered parts assembled.
Pretty simple. RH jam nut goes on RH rod end then RH rod into RH thread of your tube
And same for the LH. Also in the pic is miscellaneous grade 5 hardware.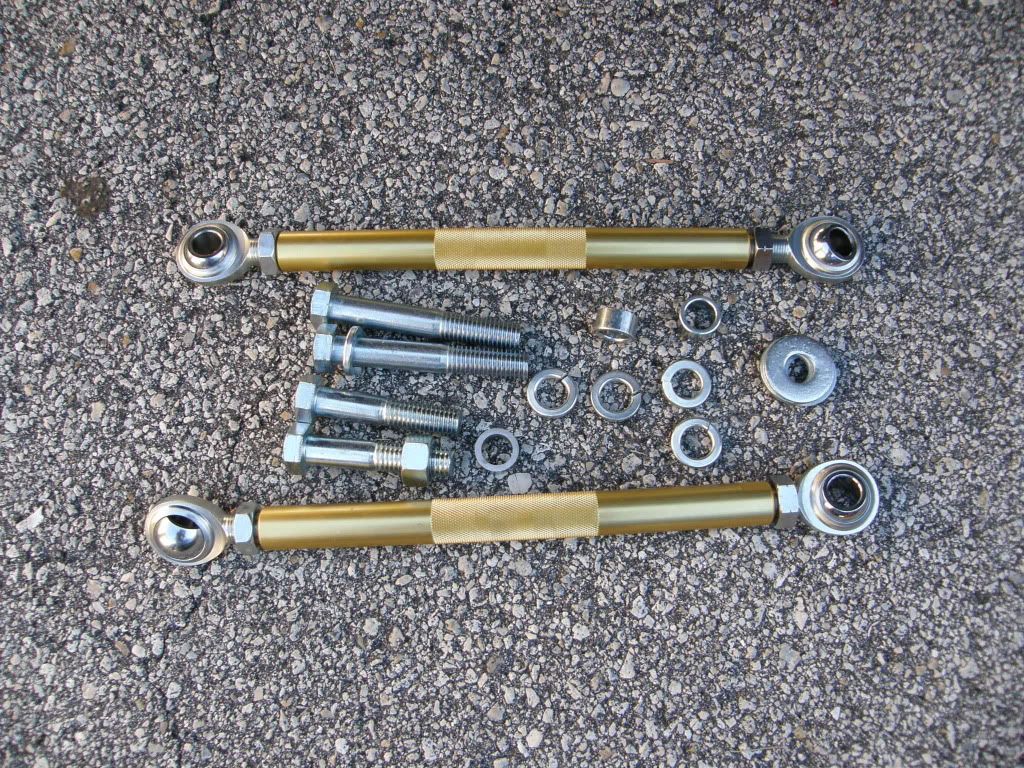 I'm not going to go into detail on the install. If you search Google, you may be able find a detailed how-to.
I'll just say it involves drilling a 5/8ths hole in the center of your controle arms about 2 ½ inches from the little nub. And the a pre-existing hole on the sub frame.
My ½" long spacer.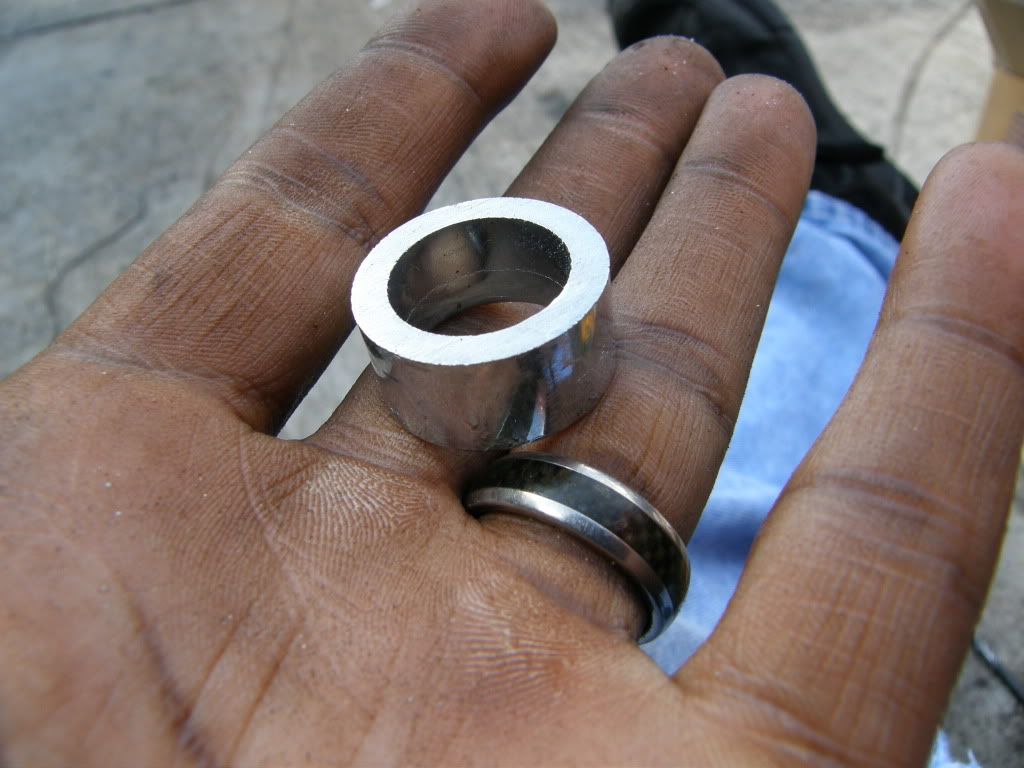 And what a nyloc nut looks like .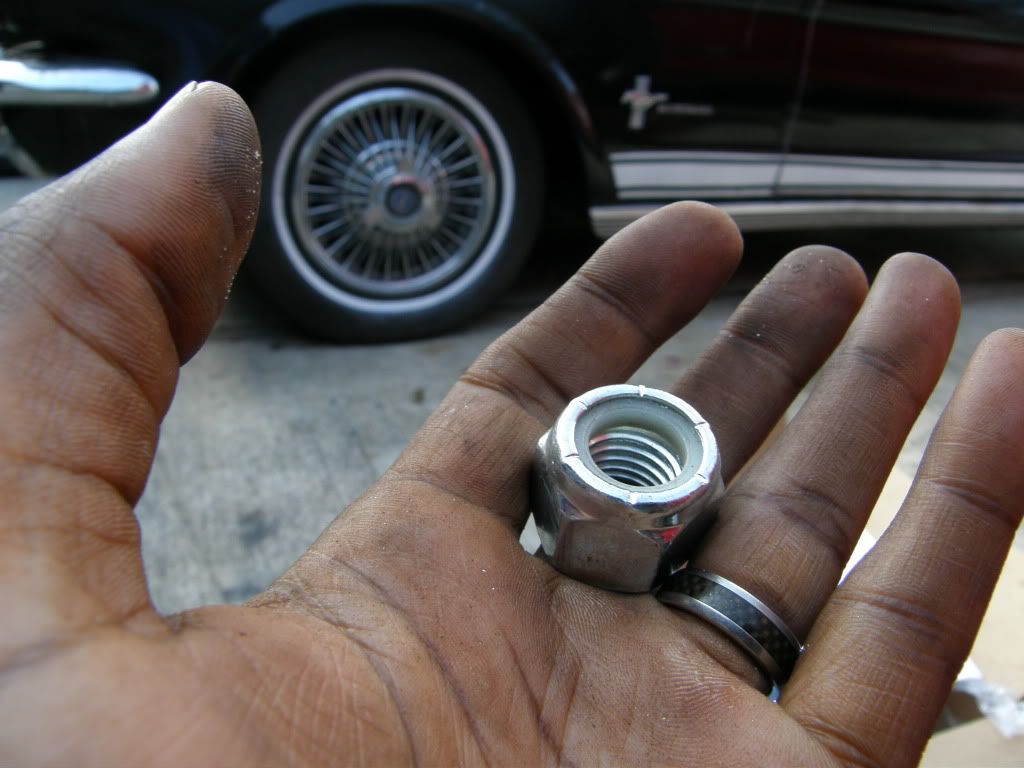 And the final install. You can see the spacer and the split lock washers used as adjustment shims. order of assembly is bolt-rod end –spacer-lock washer –lock washer-frame/control arm-nyloc nut. 3" bolt goes thru control arm , 4 ½' bolt goes thru hole in frame . Be sure to use a good metal to metal lube .like white lithium grease on the rod ends joints.