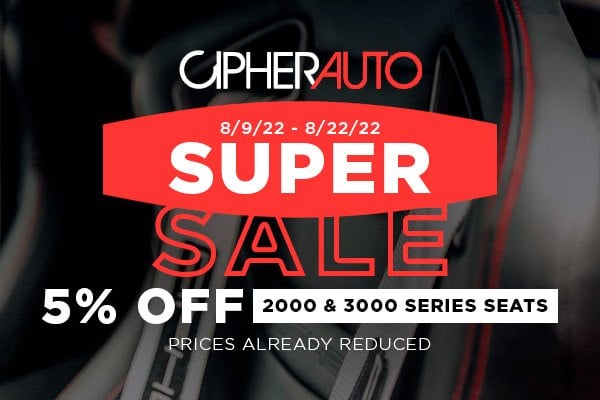 If you're looking for high-quality, comfortable, and stylish racing seats for your sports car, look no further than Cipher! Our seats are available in standard sizes with various upholstery and color options to suit the interior of your car perfectly. Model-specific seat brackets are available to ensure proper installation.
Main features:
Higher bolsters and deeper upper body support
Engineered to work properly with 4- or 5-point racing harness
Keeps your body in the optimum position
Reduces driver workload
Typically half the weight of a stock seat
Sold in pairs
And right now, you can get
5% OFF
Cipher 2000 Series Seats! This is a limited time offer, so hurry up and take advantage of it before it ends
on August 22, 2022
. Don't miss out!
Cipher Auto® - CPA2009RS Series Reclinable Steel Tubular Frame Racing Seats
More details on
-
Cipher Auto® - CPA2009RS Series Reclinable Steel Tubular Frame Racing Seats
Cipher Auto® - CPA2001 Euro Series Reclinable Steel Tubular Frame Racing Seats
More details on
-
Cipher Auto® - CPA2001 Euro Series Reclinable Steel Tubular Frame Racing Seats
Cipher Auto® - CPA2003 VP-8 Series Reclinable Steel Tubular Frame Racing Seats
More details on
-
Cipher Auto® - CPA2003 VP-8 Series Reclinable Steel Tubular Frame Racing Seats
Cipher Auto® - CPA2002 Viper Series Reclinable Steel Tubular Frame Racing Seats
More details on
-
Cipher Auto® - CPA2002 Viper Series Reclinable Steel Tubular Frame Racing Seats
Find out more about Cipher seats at CARiD: